In order for your puppy to have the best chance it can at fitting comfortably into your family, it's important that you get prepared for its arrival BEFORE you bring it home. The following information is intended to help you with this.
As always, if you have any questions, please Contact Us.
---
Puppy Care Tips
Things to know before bringing home your new puppy
---
Puppy Shipping
We'd love for you to visit our farm, and our puppies, in person. That said, we understand if you can't, and need your puppy shipped to you instead. Shipping puppies is safe and affordable, not to mention convenient! We offer two methods of shipping our puppies. We book our flights thru Airbound Pets, LLC and the puppy ships out (usually Fridays) and arrives at your airport later the same day! The airlines take excellent care of the puppies! We supply the puppy with a new, clean travel crate with food and water dish. The puppies are shipped in a pressurized area in the cargo area of the plane that does have heat and air. They keep it the same temperature as the passengers, so they are very safe and comfortable! The costs for the shipping is $400, depending on size of the puppy, in the lower 48 states and that costs includes the airfare and travel crate.
Weather permitting, we can also offer ground transport to the KC area thru Airbound Pets, and the costs for that is $50. (only available on days that they travel to that airport).
We are also offering ground shipping with Down Home Pet Transport, LLC which is owned by my son. Shipping nationwide is $450. During the Summer months, we only use ground shipping because of airline restrictions due to heat embargos. We also use them in the winter when it is too cold to travel by air.
---
Things to have ready before puppy arrives!
***Shopping List***
Let's PREPARE for your new puppy!


MOST IMPORTANT to purchase BEFORE puppy comes home**
**Puppies need special nutrition. This is a choice you make which plays a vital role in your Pets Health and Longevity
____ **FOOD: We feed NUTRISOURCE Small & Med breed puppy dry food. PLEASE DON'T CHANGE UNTIL YOUR BABY HAS ADJUSTED. If switching food blend together gradually. Check www.dogfoodadvisor.com food for best quality and register for recalls.
____ ** NUVET PLUS Immune Booster: Provides Vital nutrients for Optimal health & Longevity. Boosts immune function to protect your pet from pathogens, injuries, support vaccines, etc. Supplements many missing antioxidants, minerals and enzymes missing in processed food… Use as a 'treat' – They love it! Click here: www.nuvet.com/95486 OR Call 800-474-7400, reference #95486 (They also carry all natural ear cleaner, , shampoos and spot remover for potty training)
BASICS:
____ Food and water bowls ( stainless steel – avoid plastic which can leach into the food/water )
____ Bed
____ ID tag and collar (typically not needed for the first 6 months of age)
____ Puppy waste bags – for those walks
____Crate or kennel – This isn't 'cruel' but actually gives your puppy comfort like a 'den' once they adjust to it.
TRAINING:
____ Puppy pee pads – if you plan to train your pup indoors at any time
____ Paper towels & spot cleaner – for accidents
____ Teething toys
____ Puppy treats – We love NuVet (CHECK INGREDIENTS!) cause upset tummies and then diarrhea
____ Good puppy books – some suggestions:
How to Behave So Your Dog Behaves – by Sophia Yin
The Dog Listener – by Jan Fennel
The Puppy Primer – Pat McConnell's
GROOMING:
____ Shampoo and conditioner – I use an oatmeal based shampoo- NuVet makes one. Don't use human products- Dogs have different PH and human shampoos are irritating
____ Dog brush and comb
____ Dog tooth brush and toothpaste
____ Ear cleaner
Our mission is to breed high quality pups to bring LOVE, JOY and LAUGHTER to YOUR HOME

NuVet
In addition to feeding your new puppy a quality, balanced diet, it may also be necessary to supplement with additional nutrients. In our experience, nobody manufactures the same level of dependable, quality pet supplements and NuVet. Learn More
With millions of dogs suffering from poor health, NuVet has made it their mission to help our beloved pets stay healthy for years to come. It is this passion for pets that drives them to produce the best nutritional pet supplement you can find.
---
Feeding Your New Puppy
Your new puppy is used to eating NutriSource Chicken and Rice for small/medium breed puppies. A sample bag is being supplied by us for you. To find this puppy food in your area, go to their website by Clicking Here, then enter your zip code.
PLEASE FEED THE FEED WE ARE SENDING FIRST.
The puppy has been used to eating the food dry. But, if he/she act like they don't want to eat it the first couple of days there, just add a bit of warm water to get them to eat. You can also mix a little canned puppy food with the dry, such as Pedigree Puppy.
Your puppy is also used to having access to the food all day, so if you are going to feed on a schedule, I would suggest that you feed them 2-3 times a day till they get adult size. Feed according to bags instructions and divide into how many feedings per day.
We recommend that you also carry the puppy to his/her new food and water dish in their new home for the first few days, until they get to know their way around their new home. This will ensure that you know that they are eating and drinking properly. Little puppies are likely to get lost in a new space and not find were to eat and drink at, if left to find on their own. Don't just assume they are finding it just because you are leaving it out. It is very important that they eat and drink during the day or they will get sick. 90% of the time, puppies that die after arriving in a new home fell victim to hypoglycemia due to a lack of food. You can learn more about puppy Hypoglycemia here.
Please feel free to Contact Us if you have any questions regarding the feeding of the puppy, or with any other concerns that you question about the way the puppy acts or anything that might seem strange to you. I am here to help! 417-531-0530
---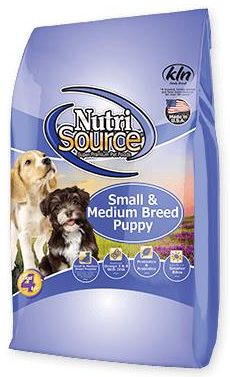 NutriSource Medium Breed Puppy Food
Your new puppy will require the right balance of nutrition as they grow. Through our years of experience, we have settled upon NutriSource puppy food as one of the best options. Their proprietary blend of real, humanely-sourced chicken, along with other key ingredients, work together to help your puppy grow strong and healthy.
Click Here for more information.