Below you will find more information about the AKC Schipperke puppies we have for sale in Grovespring Missouri.
Before reserving a puppy, please read our Policies. If you have any questions, Contact Us.
Each one of our Schipperke puppies comes with the following:
Limited AKC Registration
Vet examination and health certificate
Medical Record
Vaccinations and deworming
1-year health guarantee
Sample of puppy food (Nutri Source Small breed puppy food)
Microchip W/ Lifetime Registration with Pet Key services
30 DAY FREE TRIAL OF TRUPANION INSURANCE

ALL OUR SCHIPPERKES HAVE BEEN HEALTH TESTED AND ARE MPSIIIB CLEAR!
****After you have paid your deposit, you must submit an acknowledgment that you have read and agree to our terms and policies. Your submission acts as a legal and binding contract. This agreement section can be found at the bottom of our Policies page (click here). We will contact you asap to schedule your pick up date and time. Please call or Contact Us with any questions!
---
NEW PUPPIES!
WE HAVE A NEW LITTER OF 9 SCHIPPERKE PUPPIES! DOB: 4-30-2022 TAKING DEPOSITS NOW! AKC BLACK SCHIPPERKE PUPS. WE HAVE 5 FEMALES (1 FEMALE STILL AVAILABLE) AND 3 MALES AVAILABLE. $1400 FOR FEMALES/$1300 FOR MALES (NON REFUNDABLE DEPOSITS ARE $300 DOWN TO HOLD, DOES COME OFF TOTAL PRICE) PUPPIES WILL BE 8 WKS AND READY TO LEAVE AROUND JUNE 25TH. IF YOU ARE INTERESTED IN A PUPPY, PLEASE CONTACT ME ABOVE AND TELL ME WHAT YOU WOULD LIKE. PICTURES WILL BE POSTED SOON. THANKS!
NEW LITTER OF SCHIPPERKE PUPPIES
DOB: 4-30-22
WE ARE EXCITED OVER THIS LITTER OF PUPPIES! THERE IS (1 ) RARE BLUE FEMALE AND MALE IN THIS LITTER $3000 EACH AKC LIMITED REGISTRATION (DEPOSITS ARE $1000 AND DO COME OFF TOTAL PRICE). BOTH BLUE PUPS ARE SOLD! WE ALSO HAVE 1 BLACK MALE STILL AVAILABLE $1300. PICTURES WILL BE POSTED SOON! CONTACT US IF INTERESTED IN ONE OF THESE PUPPIES! DEPOSITS BEING TAKEN NOW!
About the Schipperke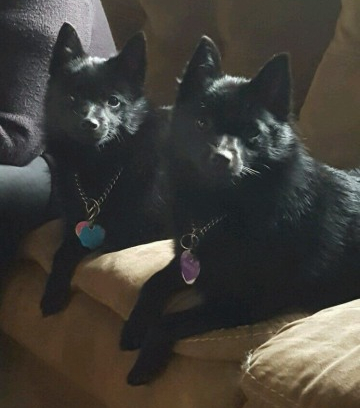 Schipperke's temperament shows it to be a positive dog, exhibiting very strong likes and dislikes, capable of making a decision about a situation. The breed is fond of children if properly socialized and supervised and frequently will attach itself to the children of the family, becoming their loving, loyal and watchful companion. Life Expectancy: 13-15 years but we have heard of some that lived 20 years or more. Schipperkes come in several different colors that AKC recognizes. Black is the most common, however they come in cream, chocolate and blue just to name a few.
Schipperke Puppies for sale in Grovespring Missouri